Course details
【Petit Banquet and Girls' Association ♪】 Choose from 4 popular menu selections All 7 items × 2 hours all-you-can-drink ⇒ 5000 yen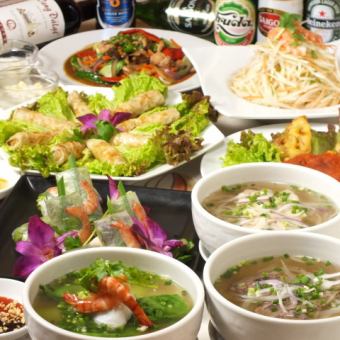 By using a coupon5000 Yen
Tax price without tax
All-you-can-drink available

Over 100 kinds of variety variety ◎ Liqueurs that are unique to Vietnam are also enriched ◎ We also have Vietnamese beers with fruity beer and aftertaste!
Reservation deadline

Until 23 o'clock the day before the store visit date
Available days for reservation

Monday - Sunday - Public holidays - Holidays
Saigon's only drink-and-drink plan! Formal banquets such as welcome reception and entertainment are also perfect for private gatherings such as girls' associations and birthday parties.
Course menu
【menu】
1 Raw spring rolls
Our spring boasting raw spring roll is a spicy and sweet chili sauce
Please eat.Also vegetables are also very healthy ♪
2 fried spring roll
Amiami fried spring rolls are crispy and eaten with exceptional response ◎
Beer advances!
3 Green papaya salad
You thought that there would be a habit! You refreshing green papaya gets soaked when you eat it.
It is a salad where you can enjoy an Asian atmosphere.
4 Homemade sausage
Homemade sausages are handmade with Saigon perfect for beer!
5 Fly Soft Shell Club
I just kept the crab as it is, so I can enjoy the umami without surplus.
Soft shell is very soft with bite size.
6 Stir-fried chicken and vegetables
Compatibility with chickens made with crunchy and chewy and fresh green vegetables!
It is a liquor with a drink nearly drinking.
7 Four (cattle, chicken, seafood)
Our pride boasts a popular menu for regular customers as well as new customers.
In this time, you can choose from three of cattle, chicken and seafood because you want to eat what you like.
All-you-can-drink menu
·beer
· 【333 bar bar bar beer】: Ho Chi Minh city representative brand.It is close to Japanese dry beer and has a smell of bubbles.【Hanoi beer】: It is a fruity beer that is gentle on the whole as well as good.【All Free】
·wine
· Dalat (red · white)
·Cocktail
· 【Liqueur】: Nepomo, Ruamoy, Nepkam, Nan Hung, Lychee, Cassis, Passoa, Peach 【Drinking】】: Rock, hot water split, water split, soda, cola, gingerlele, orange, grapefruit, pineapple, mango
·Highball
· 【Jinbeam High Ball】: Tasteless, mellow and refreshing mouthfeel.
·Fruit wine
·Plum wine
·Sake
Hot heat
·Soft drink
· Orange juice, grapefruit juice, pineapple juice, ginger ale, cola, oolong tea
Coupons that can be used with this course
2018/11/30 update