Course details
【Recommended for women】 ♪ All eight items of popular raw spring rolls and fours ⇒ 3200 yen course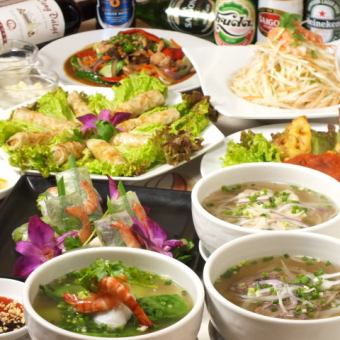 By using a coupon3200 yen
Tax price without tax
Available days for reservation

Monday - Sunday - Public holidays - Holidays
♪ with one for each one ♪ With local ingredients you are sure to taste authentic Vietnamese !! ☆ How about a party at the Vietnamese restaurant where you took Michelin ♪ Women's Association · Mama-kai · Company banquet, match any needs.
Course menu
1. Raw Spring Roll
2. Fried spring roll
3. Papa salad
4. Homemade sausage
5. Crab fly
6. Stir-fried chicken and bok choy
7. Beef For, Chicken For, or Seafood Four (you can choose one by one one by one ♪)
8. Dessert
=========================================
* All-you-can-drink alcohol (2 hours) can be added separately at 2000 yen.(4 people or more)
Beer
· 333 (Vietnam) ... Vietnamese classic, relatively dry beer.Please enjoy the scent of bubbles.
· Hanoi (Vietnam) ... It is characterized by moderate bitterness and fruity taste in Hanoi, Vietnamese capital.
● Vietnamese Shochu
· Neppumi (glutinous rice / 39.5%)
· Luamoy (45% rice)
· Nepkam (red glutinous rice 29.5%)
· Nan Hun (29% Hong Kong)
● Vietnamese wine
· Dalat wine (red / white)
● Various alcoholic beverages
· Cassis Base (Orange / Grapefruit / Soda / Oolong)
· Coconut base (pine / milk / soda)
· Peach base (mango / soda / fuzzy nameble)
· Lychee based (soda / orange / grapefruit)
· Jin base (Jim bag / Jin Ricky)
· Vodka base (Moscommeureur / Vodka Ricky)
· Other (whiskey high ball)
● Soft drinks
·Orange juice
· Grapefruit juice
·Ginger ale
·Cola
· Lotus tea
Coupons that can be used with this course
2018/11/30 update